Prenatal Chiropractic
Experience a Better Pregnancy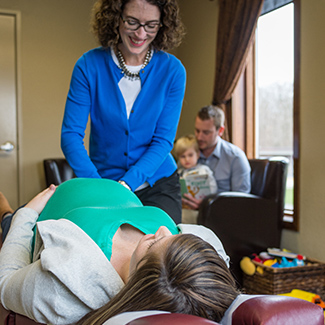 Our expecting mamas and their growing families are our passion. We love caring for them and helping create a comfortable pregnancy and delivery experience. Prenatal chiropractic care is safe, gentle and effective, and many women have reported that regular care during pregnancy has contributed to:
A smoother, more comfortable pregnancy
Less sciatica, back and neck pain
An optimal growing environment for baby
Decreased need for pain medications and interventions during labor
Easier, faster labor and delivery
The Webster Technique
Did you know? Both Dr. Cindy and Dr. Londa are certified in the Webster Technique, and continue to take post graduate education to give our expecting mamas the best care possible.
The Webster Technique is a pregnancy specific assessment and adjusting technique. It balances the pelvis, also optimizing fetal positioning and baby's developmental space. We use specially designed tables which allow mom to lie facedown during care, with pregnancy pillows for added support.
We look forward to being a part of your healthcare team to support you on this amazing journey. We are here for you!
Your Pregnancy Care Starts Now
If you discovered that you're pregnant, the time to start care is now. Our prenatal patients have regular care throughout their pregnancy and after delivery to ensure the stability of the pelvis, to help maximize the integrity of the sacral ligaments and overall neurological function.
Our doctors will also help you put together your birth team of other providers in our community to support you on your birthing journey. We work closely with area OB's, acupuncturists, massage therapists, physical therapists, doulas and much more.
Because Dr. Cindy and Dr. Londa are incredibly caring and compassionate women, their female patients find it easy and comfortable to share their problems and extend their trust. Are you interested in an optimal pregnancy? We can help. Contact us today!

Pregnancy Chiropractic Care Plymouth | (920) 893-2345