Pediatric Chiropractic
Creating Healthy Families Begins With Kids
As the nervous system controls all function in the body, it's vital for children to get a good start in life by optimizing that function. Sometimes the techniques used in the birth process itself product unintentional damage, including:
Caesarean section
Malpresentation of the baby in the birth canal
Pulling, tugging and twisting of the vulnerable neck of the newborn
The damage that can be created by a forceps delivery
The effects of suction devices on the skull and neck of the infant
Many adult health problems can be traced back to some of these birth issues as well as the everyday aspects of being a child: falling, jumping, collisions, contusions, concussions and broken bones. As we firmly believe, it's easier to raise healthy children than it is to fix broken adults.
Helping Your Children Lead The Healthy Life They Deserve
It's critical for children to be introduced to a healthy lifestyle as soon as possible. Facets of a healthy lifestyle include the need for proper nutrition, restful sleep, adequate exercise, minimal screen time, ideal posture and regular chiropractic care. Adopting these healthy habits is particularly essential during stages of developmental growth.
In our decades of experience in helping children to thrive, we've found that the following conditions respond particularly well to gentle chiropractic care
Acid reflux
Colic
Constipation
Ear infections
Feeding difficulties
Sensory Processing IssuesHeadaches
ADHD and Autism
Headaches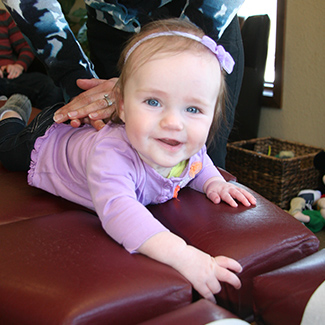 Building a Safe Place for Kids
Our office has been designed to be child-friendly, as we believe that kids need be checked at every stage of their lives to ensure proper nervous system development. Our pediatric chiropractors use light adjusting techniques that are equivalent in force to the pressure of a gentle finger on an eyelid.
Parents have entrusted us for decades, and know that their children are in caring, compassionate hands. Chiro-Health Chiropractic Care Center is designed as a destination spot for the needs of children. Our hope is to have happy kids that grow into fully functioning adults. Contact us today!

Pediatric Chiropractic Care Plymouth | (920) 893-2345