Pediatric Chiropractic
Creating Healthy Families Begins at Birth
Chiropractic care for babies is safe and gentle, sometimes looking like soft massage or touch of a hand. The amount of pressure the doctor uses is similar to what you would use on a piece of ripe fruit.
Some of our Chiro babies have been adjusted immediately after birth, and others within weeks of birth. Chiropractic care can help with a variety of things including recovery from the birthing process, to relief from gas and colic symptoms, breastfeeding improvement and better sleep patterns. 
The birthing process can be hard on both mom and baby, with a lot of pressure put on baby's head and neck during birth. Gentle chiropractic adjustments can ensure the nervous system is developing and functioning properly. All of babies' systems are still growing and developing which can sometimes lead to gas buildup and colic. Gentle chiropractic adjustments can relieve pressure in the abdomen and allow baby's digestive system to function better. Parents report happier babies!
During the first year of a child's life, their spine doubles in length and they develop neck and low back curvatures during this period of rapid growth. Wellness chiropractic adjustments can ensure the spine is growing properly and supporting optimal neurologic function. When your body is growing and developing properly, it allows all of the other systems of the body to thrive.
Helping Your Children Lead The Healthy Life They Deserve
It's critical for children to be introduced to a healthy lifestyle as soon as possible. Facets of a healthy lifestyle include the need for proper nutrition, restful sleep, adequate exercise, minimal screen time, ideal posture and regular chiropractic care. Adopting these healthy habits is particularly essential during stages of developmental growth.
In our decades of experience in helping children to thrive, we've found that the following conditions respond particularly well to gentle chiropractic care
Acid reflux
Colic
Constipation
Ear infections
Feeding difficulties
Sensory Processing IssuesHeadaches
ADHD and Autism
Headaches
If you are looking for a fresh path for you and your family, please reach out to us. We can help you with pieces of the puzzle you may not have considered before. Your family deserves more calm, more smiles, more health and more joy. We are here for you!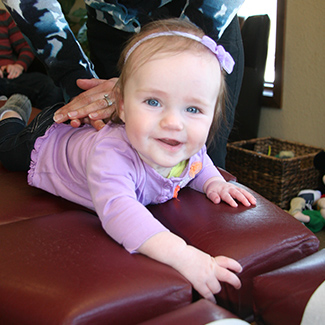 Building a Safe Place for Kids
Our office has been designed to be child-friendly, as we believe that kids need be checked at every stage of their lives to ensure proper nervous system development. Our pediatric chiropractors use light adjusting techniques that are equivalent in force to the pressure of a gentle finger on an eyelid.
Parents have entrusted us for decades, and know that their children are in caring, compassionate hands. Chiro-Health Chiropractic Care Center is designed as a destination spot for the needs of children. Our hope is to have happy kids that grow into fully functioning adults. Contact us today!

Pediatric Chiropractic Care Plymouth | (920) 893-2345