New Patient Center
If you're visiting our chiropractic care center for the first time, we'd like you to know exactly what to expect. We want to provide you with a meaningful experience and will make sure that you feel welcome and supported every step of the way. As you enter the clinic, you'll notice that the atmosphere is light and bright, with a sign that proclaims, "Enter Here to Be Well." Our office has been described as fun, energetic and welcoming. We hope that you feel the love here.
Your First Visit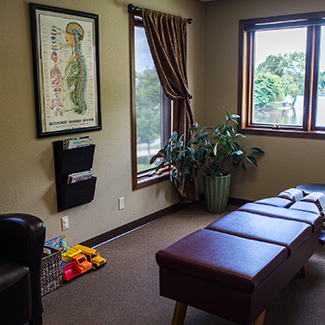 Your first visit will take about one hour. As you walk in the front door, you'll be warmly greeted by one of our staff members, who will collect your new patient paperwork and payment information. If you haven't had a chance to download and submit the online paperwork, just arrive about 15 minutes early to complete it before your appointment. You'll be escorted to a private room, where we will conduct spinal scan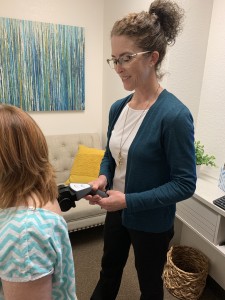 s using our Insight Scanning Technology. Here are a few ways to prepare for your scans and ensure the best results possible:
Give yourself plenty of time to arrive without feeling rushed or stressed
Allow at least 3 hours after exercise or intense physical activity
Limit caffeine intake (coffee, tea, soft drinks) for at least 3 hours prior
Do not alter your prescriptions
Limit nicotine and non-prescription drugs prior to your appointment
One of the doctors will then conduct an assessment, including
A detailed consultation and health history
An orthopedic and neurological exam
X-rays, if necessary
If your condition is acute, the doctor will give you advice on home care.
Your Second Visit
Your second visit will take about 30 minutes. During this appointment, the doctor will provide you with a report of findings, which is a full review of your evaluation results. Customized care options will then be suggested and a plan of action discussed to help you meet your goals. This will be followed by a gentle chiropractic adjustment, as well as therapy if it's indicated. We'll take you on a short tour of the clinic, and introduce you to some of the unique features of our office, including our expansive lending library. At the end of the visit, we'll introduce you to Rhonda, who will help you review your financial options, as well as your scheduling needs. You'll leave for the day with a smile!
Regular Visits
Subsequent appointments usually take no longer than 15 minutes. You'll find that we're passionate about the work we do. In addition to your chiropractic adjustment we will review and talk about beneficial lifestyle changes that will help you in your overall response to care.
Your Care is Your Choice
The three phases of chiropractic care include: acute care for symptom reduction, rehabilitative care for correction and strength and wellness care. Our doctors will explain how you can benefit from each phase of care and your customized treatment plan. How long you chose to continue your care is always up to you. We look forward to helping you reach your healthcare goals. Contact us today! CONTACT US »

New Patient Center | (920) 893-2345