Chiropractic Care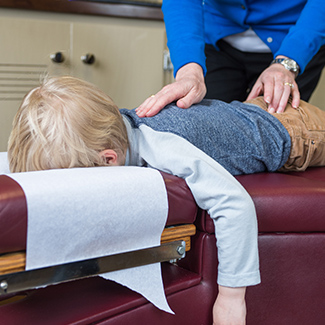 Chiropractic care is the art, science and philosophy of caring for the human frame while maximizing its neurological components. It's a popular, drug-free approach to reducing pain and dysfunction while optimizing the potential for wellness and vitality.
Benefits of Chiropractic Care
Our approach to helping our practice members get out of pain and on the road to recovery occurs during three phases: acute care, rehabilitative/corrective care and wellness care. Initially, our goal is to increase joint range of motion and reduce swelling, inflammation and spasm, while opening up nerve pathways that lead to healing.
As pain is eliminated, we switch our focus to rehabilitative exercise and changes in lifestyle and home care. This shift ultimately leads to the final phase of wellness care. Wellness care helps to maintain function through routine spinal adjustments and continued coaching on lifestyle choices including smoking cessation, weight loss, exercise, better sleep and nutrition.
Although chiropractic is well known for its ability to reduce pain, here are some of the other outstanding benefits:
Better sleep
Calmer digestion
Faster recovery from injury
Improved immune system capacity
Increased energy, focus and concentration
Optimal nervous system function
Individuals may start care at any one of the above stages. Whether you have many health challenges you need to have addressed, if you are already in great shape and you are looking to optimize your function, or somewhere in between, we have a place for you at Chiro-Health!
Customized Techniques
We offer our practice members an array of well-respected adjustment techniques, as well as physical therapy options:
Diversified & Gonstead A manual hands on approach
Thompson Drop Table A popular, low-force approach that features a drop-piece adjusting table
Activator Methods™ An instrument-based technique designed for those who prefer a lower force approach
Logan Basic A low-force, soft tissue technique ideal for babies and seniors
Interferential Current, pre-mod & light therapy to aid in soft tissue healing
Massage Therapy We have massage therapists on staff who will work closely with our doctors to customize therapy sessions to meet your individual needs
We take the goals and challenges of our practice members seriously and offer a team approach for ongoing success in treatment. If you'd like to experience better health naturally, call us today!

Chiropractic Care Plymouth | (920) 893-2345